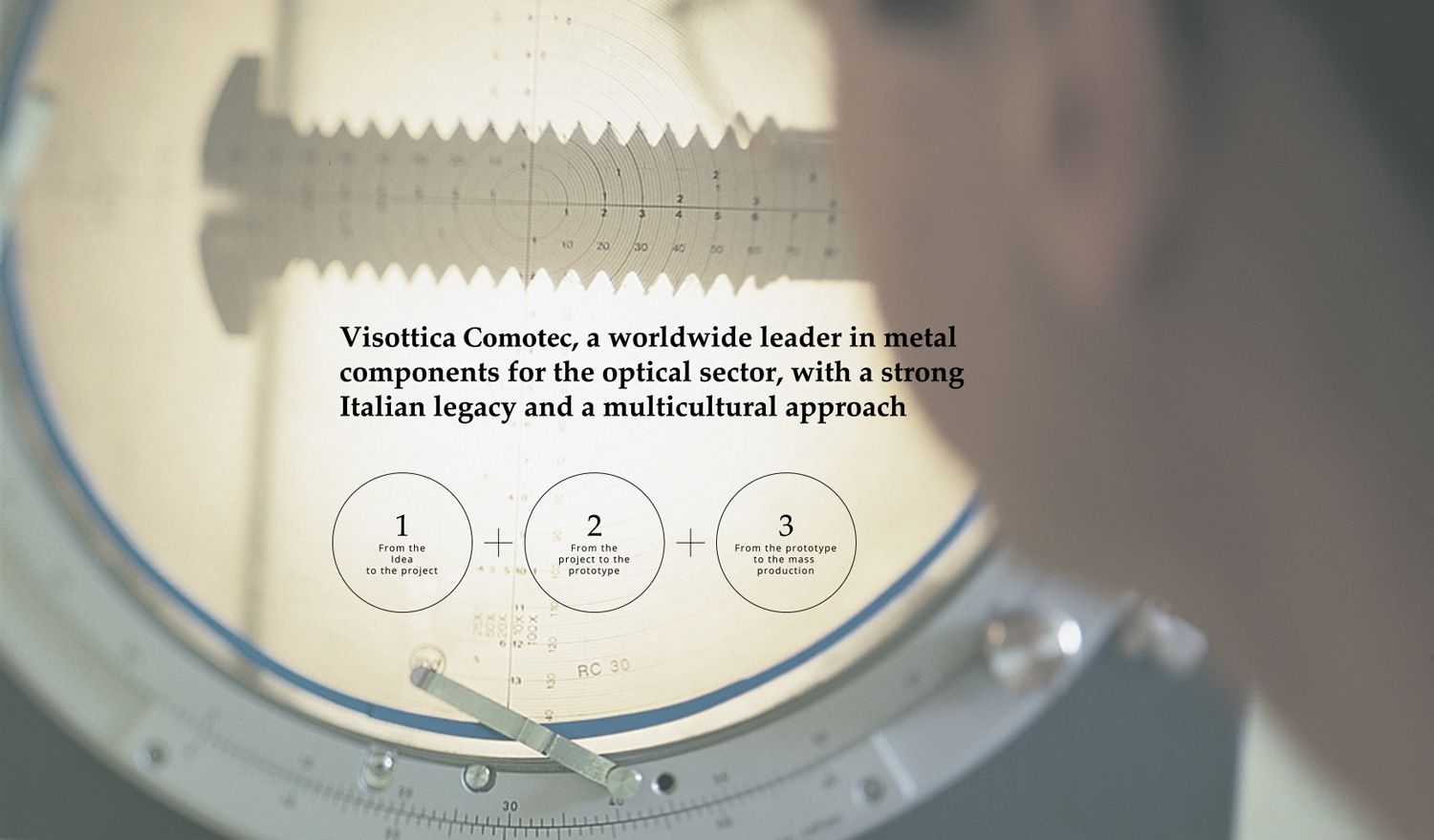 Who we are

Italian roots, multinational vision

Since 1947 Visottica has been worldwide leader in metal components for the optical sector. We offer a wide range of eyewear components for different kinds of frames: metal, acetate, injection, wood and other materials. We supply standard products, from the catalogue and we work side by side with our customers to help them developing personalized solutions.
What we do

Custom products

The variety of technologies available in our organization allows us to offer a wide range of customized components for the eyewear industry. Milling, CN cutting, cold stamping, casting and MIM are utilized singularly and in combination to find the best solutions to our customer's needs. The products obtained by stamping process include hinges (both flex and regular), end parts, bridges, decorative elements and temples (flex and regular). Researching innovative materials is a key element of the development cycle. We offer production in nickel silver, stainless steel, titanium and several alloys. The plastics department is able to reproduce logos and decorations in high definition, also in 3D, representing a perfect opportunity to personalize nose pads. Our philosophy is to support our customers from the development of an idea, and its design, all the way to engineering prototyping and producing the final product, making us ideal partners, not just suppliers.

Standard products

Our catalogues offer a variety of solutions for different kinds of sunglasses and optical frames (flex and regular hinges, wires, temples, screws, nuts, nose pads and pad arms), in order to meet the most common needs, technical and cosmetic, that might arise during the development of a new frame. Mechanical features and performances, functionality, shapes, dimensions, angles and tolerances, every specific request from our customers is a drive for us to improve our offer of tomorrow. Standardization allows us to work on a forecast and to produce to stock, shortening the lead time and guaranteeing quick and flexible service. The big volumes produced lead to cost savings, which put us in the position of being competitive on pricing.

EXPLORE OUR CATALOGUE
How we work
Our values
Ethics, environment and professionality are the driving principles that determine how Visottica Comotec works
Creativity
We support you throughout the entire process, from the conceptualization of an idea, to the engineering of technical solutions, all the way to creating a functional and captivating product.
Innovation
We are constantly committed to researching new technologies and new materials to maximize mechanical performance, contain production costs and allow different applications.
Experience
Visottica Comotec has over 70 years of experience in the optical sector, currently represented by 15,000 types of products and 40 active international patents.
Flexibility
We provide flexible solutions for different projects and sizes. From the industrialization of the component, all the way to supply logistics, we deliver a customized service to suit your needs.
Trustworthiness
We treasure what you share with us and guarantee confidentiality, respect of exclusivity and safeguard of your intellectual property.
Compliance
Our quality is guaranteed by a full compliance with the most recent requirements of the optical field. We are always up to date with regulations and provide detailed certificates on request.
Social Responsibility
International laws aiming to protect the environment and the working conditions are a priority.
Where we are

Global reach

Visottica Comotec global leadership can be seen in the
continuous exchange of competence and know how
between Italy and China which makes its
manufacturing culture unique
Production
capabilities

Sales & commercial
structures

2

Production plants Susegana
(Italy) & Dongguan (China)

1,000

Employees

1,000,000,000

Components per year

40

International Patents

10

Sales Managers

15

Customer Service
Representatives

2

Commercial Offices

1

Trading
Company

over 1,000

Customers

50

Covered Countries